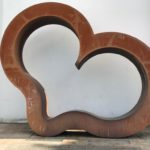 What's the best expression to use when speaking respectfully of a feisty senior member of the parish? I'm really not sure, so I will simply say, a lady came into the office to ask for a Mass card during the week. Shubert, in Vivienne's absence, was quick to show her the stand with its impressive array of cards. There she browsed, picked first one card, then another, holding a couple she liked between two fingers, slipping one back, taking a different one. A really careful process of choosing the most preferred card for the intention in her mind. As I passed by, observing this, I compliment her choice and said how happy I was that the bookshop provided us with such nice cards, not too pious, very reverent and attractive. 'Well' she said, they could be a little more colourful, cheerful, uplifting! Indeed, you're right, said I, as she went onto explain that the Mass card brings such a message of hope, that everything about it should communicate, brightly and
strongly, JOY.
It was such a nice moment, to hear the conviction and strength of faith behind the sending of the Mass card. As it happened the particular intention was to send birthday greetings to a friend, and of course the occasion is joyful and the card should be too. But behind the image on the front and words inside, was the intention of a woman of deep faith, connecting her greeting, with her trust in the gift of the Risen Lord shared in the Eucharist. It was a simple encounter, that lasted just a couple of minutes, but it has stayed with me during the week, in a joyful and uplifting way.
Thanks to all who share their faith and hope when sharing a Mass intention.