Confirmation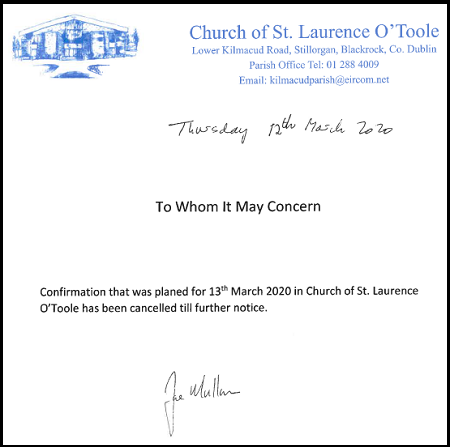 The sacrament of Confirmation is the third sacrament of initiation, after Baptism, & Holy Communion.
Through this sacrament, the candidates receive the Holy Spirit. The Gifts of the Holy Spirit are sealed and strengthened within us. We are called to be Witnesses to Christ, in the work of building His kingdom on earth, and our Christian faith.

"Send the Holy Spirit to be their helper and guide. Give them the spirit of wisdom and understanding, the spirit of right judgement and courage,
the spirit of knowledge and reverence. Fill them with the spirit of wonder and awe in your presence."
The Bishop then anoints the candidate with the words,
"Be Sealed with the Gift of the Holy Spirit."

In the diocese of Dublin this Sacrament is conferred on children in Sixth Class. Baptised adults and teenagers who were not confirmed as children, and who would like to receive the sacrament, should contact the parish office.

Programme of Preparation for Sixth Class