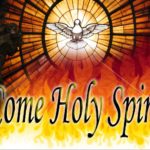 The lifting of the restrictions on intercounty travel was very uplifting for all those who live locally and have family and friends in other parts of the country. We have all been living for many months in our local area, rarely putting fuel in the car, as so many journeys have been on foot, two wheels or short runs in the car.
So with great anticipation of the journey ahead I reverted to being my dad, filled the car to the brim, checked the tires and the oil, and passed through the car wash for good measure. Setting out on Sunday afternoon, heading for the M1 and pointing North, I was heading 'home'. Even after nearly 36 years as a priest in Dublin, and 48 years since I came to school here, the North is still home for me. I hadn't been there, or seen a single member of my family since last August. I can admit to being almost giddy with joy at the thought of seeing everyone, catching up on their Covid survival stories and even the simple pleasure of sleeping in a different bed.
The trip, just two nights away, was wonderful. They recognized me and I them and within minutes the feeling of separation disappeared, the familiar enveloped me and the oh so ordinary was just perfect. The lighthouse at the end of the harbour wall still rotates, casting a shadow on my bedroom wall, as it has done since childhood. The mountains of Mourne are a little scarred from recent fires, but still as majestic as ever, sweeping down to the sea at Newcastle. Some things just never change.
I hope it will be like this for us coming back to church too. The same seat we always move to is waiting. The familiar scent of candle and incense will greet you. The saints and their shrines continue to console. Approaching the Altar for the Eucharist is to join in a procession of brothers and sisters in the Lord to be fed with heavenly food. Hopefully, within a short time, we can slip back into the routine of being at the church, gathering with the parish, praying with one heart and mind and moving forward into a better future. The Spirit that summons us here, that dwells within us, freely sent to us from our Father in heaven will guide us on this journey.