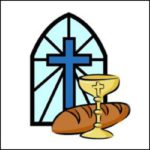 Last weekend we welcomed Fr Clement and members of the Indian Community from the Syro-Malabar church to visit Mount Merrion. He will shortly visit Kilmacud and make an appeal.
The members of the community came to each Mass to share their story of the suffering and hardship that COVID 19 has brought to their family and friends back home. Fr Clement had written to me to ask for prayers and assistance in response to the calls for support that came to him from his Bishop who is struggling to get oxygen and essential supplies to his parishes. He shared that a huge number of priests and religious, more than 500, had died from Covid having contracted the virus while serving the poorest of people in the remote areas.
He mentioned that one of his classmates had died and that another, Fr Paul, was on a ventilator and critically ill. Today he let me know that Fr Paul had succumbed to the virus and died early this morning. Their suffering goes on and on. In the words spoken to us the Indian community asked for prayers and petitions and where possible financial support. He indicated to us what a donation of €10, 20 or 50 would provide and needless to say many parishioners were only too happy to give generously, thank you.
The crisis in India won't go away quickly and the suffering and losses experienced now will be felt in families for years to come. This pain and grief has also been felt here in Ireland and throughout the world. In a strange way, the global pandemic has made us all aware of how we are dependent on each other, sharing food and medicine and realising that the similar experiences of living through this hard and demanding moment in history is our common and shared story.
The faith that we share is also global, universal and expresses our trust in the one God who holds us, and India and all people close. We pray in thanksgiving for all the blessings that have come to us, the insights that enlighten our minds and moments that have moved us to compassion. May our celebration of this Feast of Corpus Christi help to root our lives in the sacrifice of the Mass and care of the whole community of faith.