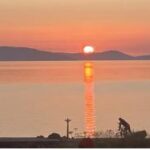 I'm just back from a week's holiday relaxed and refreshed, what a difference the weather makes. I was with my sister and a priest friend in Derry, a city so perfectly perched on the Foyle with Donegal on one flank and the beautiful North Coast on the other.
Derry people are exceptionally friendly, love the chat and finding out about their visitors, and proud of their city. In fact, they have a lot to be proud of, the dark days of the troubles are recalled on vivid murals, seen while walking the incredibly intact city walls, while the stunning Peace Bridge spans the Foyle and invites the two communities on the opposite sides of the river to cross over and know each other. It was my first time back since John Hume died and his legacy is both the peace and the prosperity and the care given to his native city by government and local authorities. On the one hand, there was huge investment in jobs and on the other, there are resources to keep the public spaces attractive and inviting and a rich programme of cultural events and festivals to enrich both the locals and visitors alike.
Driving out from the city the hinterland is so beautiful, Lough Foyle, Lough Swilly, the North Coast, hills and glens, beautiful nature, inviting towns, terrific beaches. Choices of places for walks and bike rides, boat trips and picnics abound, and when it's a week of blue skies, balmy days and still evenings, it felt like paradise.
I left here tired and irritable and more than ready for the break and return so grateful for the beauty that is within our own island, for the company of family and friends, and renewed by the simple pleasures of life.
The one moment that will stay with me was sitting for an hour on the beach in Buncrana watching the sunset behind the hills of Donegal, surrounded by young people having fun, families wrapping up their day at the beach, eating excellent ice cream and watching the golden orb of sun decline, ending a perfect day and with the promise of more to come. Overwhelmed by the beauty of God's creation and the joy of the natural world.