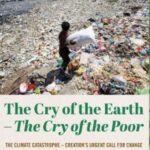 Archbishop Farrell's Pastoral Letter: The Cry of the Earth—The Cry of the Poor
At this time every person on our planet is confronted with two interconnected crises: the coronavirus pandemic and the ecological crisis. Both define our age. Both require urgent action. But it is the reality of climate change that is 'humanity's defining challenge.' Over the coming decades, the havoc of the pandemic will pale when compared to that of climate change.
To respond to the climate crisis, and to mark the Season of Creation—which began on September 1st and continues until the Feast of Saint Francis of Assisi on October 4th—Archbishop Farrell has published a pastoral letter, The Cry of the Earth—The Cry of the Poor: the Climate Catastrophe—Creation's Urgent Call for Change. This pastoral is an invitation to all people—those in the Church and those beyond—to reflect on the climate crisis in new ways, so that the baptised may live the life of faith more vibrantly, and everyone may respond more actively to the serious situation in which the world finds itself. The pastoral letter is available online, as well as in hardcopy from Veritas.
Prayer of Intercession, 23rd Sunday B
It is the Lord who keeps faith forever, who establishes justice for the oppressed, and who gives bread to the hungry.
That our ears and our hearts may be open to the cry of the poor so that every person may be able to live with hope and dignity on this Earth, our common home. Lord, hear us.
We look with helplessness and compassion on the many natural disasters unfolding around us—the scorched earth and the parched land of which Isaiah speaks.
That we may find the resourcefulness and resolve to act for the good of the Earth—God's gift to everyone, and the only place we have to live, our common home. Lord, hear us.
Download here: Archbishop-Farrell-Pastoral-Letter-The-Cry-of-the-Earth