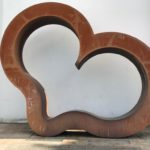 Carrying the coffin of my uncle John from the hearse to his grave on Tuesday felt like the end of an era. He was 87, a wonderful man, bursting with energy and full of love and goodness. He was the last of the four Curran brothers to die, and four of his five sisters, my mother among them, have gone before him, leaving just one of the nine behind. I felt so sad for Aunty Barbara, now a frail older woman who has stood at the open graves of both her parents and all her siblings. "I'd like to go quietly when my time comes" she whispered to me as we walked back to the car, a quiet humble woman, she wouldn't care for all the drama that he generated!
It's been four years since the last family funeral and I'd forgotten the emotional roller coaster that the days after death bring us on. I was sad for uncle John, but to be honest his light was dimming in the few years since his beloved wife died. A picture on the Mass leaflet, probably taken at a wedding a few years ago, showed them together, finely dressed, beaming and beautiful, a memory of better days. Meeting his children, my cousins, was tearful and sad, they had done so much to make his final years and days comfortable and uplifting. Now they face life without either of their parents, they will learn to lean even more on each other. The wider family turned out in good numbers and it was such a relief to be able to have a couple of hundred people in the church for the Mass, there was even a small choir.
Listening to many anecdotes about his life was fascinating. As always you have one perspective on a relative, but his work colleagues, sporting pals, the other members of the chorus of the Belfast Opera, have all sorts of stories, everyone infused with admiration, appreciation and affection.
Every one of the nine siblings were people of faith, strong Catholics, active in the church and committed to all kinds of charitable works here and abroad. John read at Mass on Tuesdays when his name was on the rota, he believed in the Word that he proclaimed and held himself to the high standards that the followers of Jesus are called to. He had deep pockets and was extraordinarily generous. The Gospel chosen for his requiem was The Last Judgement, appropriate for a man who sat on the bench and administered justice, surely he will be found among the sheep, among those he helped, fed, clothed, visited and gave shelter to.
All of this affirms the place of faith and religious practice in our lives, hearing the Word and actively seeking to love God and our neighbour, can and does lead to a full and active life. We are all so grateful for the witness and example of his generation and all they have taught us.