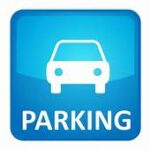 I can't remember the last time a week passed by and I didn't say at least one funeral Mass. Free from that obligation I've been busy this week with some of the practical things that need to be attended to at the three churches. An issue with the 'Loop' system in Kilmacud, the ongoing improvements to the front entrance to the Church there and responding to a serious and I hope, isolated act of vandalism, took up a lot of time. While I was there looking after these various bits and pieces of housekeeping I was made aware that the pub and shops nearby had introduced parking restrictions. Needless to say, when such changes occur it's very likely that there will be increased use of the church parking.
During the summer, I had two companies look at the parking situation at all three parishes. From these meetings, we began to get an idea of the difference in approach with 'pay and display' and various types of barriers. Many people have mentioned to me the parking arrangements at Merrion Road Church and Dundrum and how they have tried to manage free and easy access to their parking for Masses and funerals for their parishioners while also getting some much-needed income for the parish from others who just use the church carparks.
In Clonskeagh we are very close to shops, Luas and housing estates and many people park in our grounds. In Mount Merrion, the carpark near the Union Café is very busy with people availing of the freely offered space to such an extent that often we find very few spaces available for funerals and parish needs. And in Kilmacud the proximity to a restricted parking area and the village puts a lot of pressure on space.
So, I think the time has come to move towards some car park management system to be put in place in all three parishes. In so far as there is 'pay and display' parking it won't be enforced at Mass times and will always have a 15 mins grace time to facilitate school drop-offs etc. There will be special areas around the church restricted and free for those going to mass and to pray. The benefit for the parishes is better management and availability of the car parks when we need them and of course, some small income would assist with insurance, lighting and upkeep of the carparks. By keeping the parking cost to just €1 per hour (€5 per day) we would like to encourage people to use the carparks as they so currently. If you have any questions or would like to meet me to discuss this topic please get in touch.
Finally, I had a meeting with a company run by two exceptional young women who are past pupils of Mt Anville School. They have developed a very simple method of cashless payments, using our mobile phones, which I think might be a huge benefit for our parishes. So more about that next week.
Returning to matters more spiritual Fr Alan Hilliard, writer and broadcaster, with a special interest in Migrants, will lead the annual Advent Service of Reflection and Reconciliation on Monday, December 20th in St Therese, Mt Merrion at 7.30 pm for all three parishes. We are working on dates for sacraments in 2022 and the number and times of Masses for Christmas. We propose to have just one Mass on Sunday 26th December in each church to gather and celebrate the Feast of the Holy Family together.