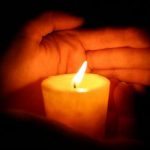 I don't often catch the bus early in the morning when students are on their way to school. Yet
there I was the other day, just after 8, waiting and watching as bus after bus disgorged boys and
girls, all in uniform, some chatting together, most alone, earbuds in place, oblivious of the world
around them, making their way to school and class. Just one smiled and nodded as he brushed
past, back pack weighing him down, hurl in hand, I guess he had both academics and sport on his
agenda. Hurling was already on my mind as I'd noticed St Laurence's School bedecked in the
Crokes flags the day before, maybe the young man is dreaming of similar challenge and success
one day. All the best to Crokes on their way to Parnell Park for the Hurling Championship Final! Later, in the afternoon news filtered through of the tragic death of a school boy, Harry, in Kilkenny, hit by a sliotar in a freak accident. I thought again of the lad from earlier and all the thousands in our schools across the country who love to puck around with their friends, learn and improve their skills and never imagine such a tragedy happening. It is simply beyond belief.
The local priest, a past man of the same school, and a huge follower of the game, spoke to the media after the hours he'd spent with the stunned, grieving family. There's no explanation as to why these things happen, he said, it's a heavy cross for the family and community to carry. All we can do is support them through their darkest hour and be there for them. The strength in belonging to a community is this unconditional love, total support and willingness to stop everything and just be there for each other. No doubt when it's time for the requiem mass a sensitive and uplifting liturgy will be offered and all the dimensions of this young life, ended so suddenly will be offered back to the God who created him, the Lord who accompanied him and
the Spirit which dwells within every moment of his existence.
Our own Mass for the bereaved was another moment when the anguish and grief felt so deeply after the death of a much loved one was remembered. Yet in God's mysterious ways, acceptance and hope have crept in, replacing tears, it was very uplifting to meet the families again in such a prayerful atmosphere.
So in whatever way we are touched by loss and grief, know that here we are a supportive faith filled community, united in prayer for the month of November relatives and friends. May they rest in peace and enjoy eternal peace and light.
This weekend we are celebrating the Feast Day of St Laurence O'Toole, Patron of the Dublin Diocese as the Feast Day falls on Sunday 14th and he is also the Patron of Kilmacud Parish.