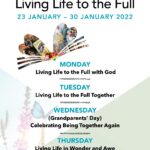 First and foremost, you should all be proud of yourselves as young people for coming through the last 18 – 24 months as all aspects of your lives have been disrupted in some way by the Covid 19 pandemic, be it your school life, your hobbies or socialising. Over this strange period, we have seen a new sense of community spirit through our schools and clubs with
various initiatives and ideas coming to life.
As young individuals, you are all an important part of your communities, schools and clubs and the people involved in your life such as your parents and family, teachers and coaches who are all there to help you along the way. So, it is a good time to have a real think about what you want to achieve. You can have one goal or a number of goals, big or small, to happen soon or well into the future and that is the beauty of setting your own targets, it's all up to you!!
For me when I was younger my main goals were around sport and some small ones for school which would allow me achieve the bigger goal of the right job I wanted when I had grown up.
It is impossible though, to live without failing at something so as you grow up you should not fear failure. One thought I always keep at the front of my mind is that every day is a learning day and that you are always developing and improving yourself as a person which will help you in all aspects of your life.
Best of luck,
Shane Horan,
Kilmacud Crokes Senior Footballer
Past pupil of St. Laurence's and St. Benildus.