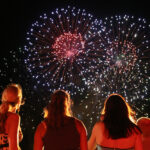 Capodanno, is the word you might see in Italy on posters advertising the New Year celebrations. Until I spent one end of year holiday in Amalfi I had no idea what an exuberant and joyful celebrations the Italians enjoy.
I well remember that New Year's Eve in 1990, dinner in every restaurant was a set meal, one price, expensive, and many courses. As midnight drew near everyone moved out onto the streets to mingle, packing the promenade. Local children tossed harmless firecrackers in among the feet of the crowd, each little explosion causing a reveller to jump with fright. My inner child, being formed in Northern Ireland, found this all very uncomfortable indeed, explosions, however small, were not joyful and heart lifting.
In fact, I found it so unsettling that I insisted we go back to the hotel and sit on the balcony to enjoy seeing the sky lit up by the explosions of colour as the fireworks marked midnight. As my friend and I sat there saying farewell to one year, and welcoming a new one, we reflected on how much the environment we grew up in had formed our attitudes and behaviours. As single Irish men, both priests and from Northern Ireland, this way of passionate, joyful, boisterous, fun filled community celebrations were totally unfamiliar to us. We made a sort of New Year's Resolution to cast off the restrictions of our impoverished way of celebrating and to embrace the lightness and laughter of the Italian way.
Like most resolutions we make in the moment of the bells ringing in the New Year, they don't actually change us very much. Firecrackers still make me jump, but I hope something of that Italian outlook on life is there for all of us. The New Year brings the hope of life being a bit better, and particularly for our young people that they can get to enjoy the full potential of life, while for all of us, we might regain the lost freedoms of this past 18 months.
Wishing you and all you love, a very happy new year . Buon Anno