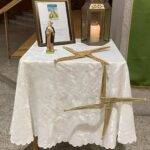 It was leek and potato soup, eaten in a café in Belfast, which gave me one of the worst cases of food poisoning in my whole life. So, after a rotten night I headed back down to Dublin for a wedding. Sitting in the sacristy I was weak, dehydrated, very much feeling the after effects and not sure how I was going to get through the next hour with a smile on my face. A knock came to the door, a Brigidine sister popped her head in, to ask a favour. She quickly explained that she was the aunt of the young man who was getting married and she wanted to make a St Bridget's Cross as part of the liturgy, would I mind? Well if there was ever a welcome request it was this one, of course, said I, come up immediately after the Gospel, you will be so welcome.
And so, I sat and listened and watched, enthralled as this wise and holy woman, held up a bunch of reeds and explained their origins, gathered along the banks of a stream running through their family farm, she offered them to God in blessing and then took two reeds in her hands, and named them, one for him, the other for her. She folded them together, as one, and began the making of the cross. To every reed she plucked she gave a word of meaning and significance, one for each of the parents, more for the family. Widening the circle of vision, she wove kindness and patience, tolerance and understanding into the cross emerging, then one or two reeds, or maybe more, for the future children she prayed would come, and maybe a few more for healing, love and laughter.
At the end, she clipped some bands over reeds, snipped the four ends, kissed the perfectly crafted cross and handed it to the teary eyed, soon to be wed, couple. She offered some words, maybe "May Bridget in all her strength look over you, be well, have fun." And silently took her place.
It was perhaps the most memorable wedding homily I've ever witnessed and on St Bridget's Day I pray for her, for that husband, wife and family, and ask that our Patron Saint will help us magnify the Lord and praise his holy name.