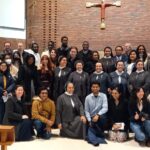 Last Sunday in Kilmacud Parish, Sr. Maria Elena Morales Quintero made her final religious profession as a Clarissan Missionary Sister of the Blessed Sacrament. The gathering in the church for this celebration was unique, religious sisters, priests and people from all over the world came together to participate in this uplifting liturgy. For me it was the first time in my 36 years as a priest to witness this ritual and it was a real privilege to preside and preach.
I'm not sure I've ever seen so many smiling faces, radiant with the joy of the moment, everyone so happy to surround Sr Maria Elena with their prayers, affirmation and affection. Her parents had come all the way from Mexico to be present at her side and the moment when she knelt to receive their blessing was memorable. Her religious superior had come from Spain and the Mother General of the Order watched in through the live stream. An immensely talented group of students from the University Residence run by the sisters in Stillorgan provided wonderful music and song. Students from the language school where she is perfecting her English included a number of sisters and priests from other parts of the world, I had no idea that there were so many of them living here.
At the very heart of the liturgy Sr Maria Elena read out her solemn vows, written in her own hand, they humbly and sincerely communicated her desire to devote her life on earth to the service of God and the Christian community as a religious sister. A very, very special occasion which allows us all both to support the newly professed and appreciate all the more the many religious women who have played such an important part in our lives, in parish, school and hospital.
At the 'cuppa' that followed it was possible to chat to many of the young people and hear their enthusiasm for a faith-filled life. I knelt for a blessing from a young Chinese man when he told me that had been ordained just last week by Archbishop Farrell as a member of the Divine Word Missionaries. Three Polish priests told me that they were here to learn English before going on missionary work. Two sisters from the Dominican Republic chatted about their work here at the Apostolic Nunciature. So many uplifting stories, many of them also expressing appreciation for all the Irish religious men and women who had educated them and trained them in their own country.
So many thanks to the Clarissan Sisters and all who came and made this unique celebration happen. And to Sr Maria Elena we all wish you many happy years in religious life.