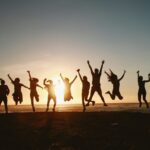 Archbishop Farrell has been our Bishop for just over a year. When he arrived into the Dublin Diocese he came with a reputation for reform, which he had earned in Ossory Diocese. There he led the people and priests through a process of looking at the mission of the church, the resources available in terms of finance, mass attendance,sacramental preparation, church buildings, priests and paid lay staff. He could clearly see that the diocese was over extended, trying to offer too much, with diminishing resources and he invited discussion, made decisions and did his best to bring the local church to a better place.
Here in Dublin Diocese there are three things happening under his watchful eye, that might help us move into a better place. The Synodal Process, this has been spoken about at Mass, the first meetings are happening during
this month, and our local effort, feeds into the wider diocesan conversation, the national churches response and will become part of the working documents for the Bishops in rome, with Pope Francis next year.
At the same time we have our "Building Hope" process which will begin after Easter. Based on the contributions of over 3,400 people who responded to the "Task Force" questionnaire last year, it is our local process to support the change initiatives that must come. It will look at our Mission, Vision and Values and gradually draw parishes and communities into closer partnership in a process that is inclusive, respectful and infused with hope.
Thirdly we have our diocesan "Sacramental review Initiative" which focuses on how we prepare for and celebrate the sacraments of the church, especially those currently based in the schools. The underlying theme there is also partnership, asking parishes to do more locally to supplement the excellent learning in the classroom, and family prayer and identity.
All of our parishes will be the better for engaging with these three strands of activity. It would be ideal to have these conversations with our senior parishioners who have built up the community, with our parishioners still actively involved in work, family and busy lives, and with the young church too. For so many people this can be the 'hook' to take a deeper dive into the inner workings of the church. To move beyond the Sunday Mass to the planning,organising,funding, enthusing and sustaining the future of the church.
We will soon need to form a new Parish Pastoral Council from parishioners excited by the Archbishop's initiatives and willing to lead the parish stimulated by his energy and leadership.
This is our time! We can reshape the way we are Church. Let's do it!