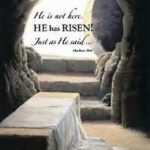 Images flash in front of us all day everyday. Some capture a moment of human experience, the camera freezes the action, we see what the photographer observed at the moment the shutter clicked. Maybe you saw an image of an ecstatic Rory McIlroy when his bunker shot on the 18th hole of the last day of the Masters rolled down the hill and dropped in for a birdie. His hands lifted skywards, his face lit up with an ear to ear grin, even the best in the world still get a thrill from success. Other images this week caught the bitter reality of war, a corpse lying in the middle of the road, hands tied behind the back of a person gunned down in their own neighbourhood, their simple clothes a sign that they were both civilian and poor. Will the suffering ever end?
To all of these images we are invited on an Easter Sunday morning to bring one for which we have no photo, but can easily imagine, the women arriving at the empty tomb, finding the stone rolled away, but of the Lord they saw nothing. It was an angelic intervention that suggested he was Risen and gone before them to Galilee.
Again we have no sight of the Risen Lord but we have learnt to trust that God's response to His death on the cross was to crown a victory with the prize of eternal life. Jesus would later tell the disciples that he would go before them to the Father, prepare there a place and in time come and bring them with him so that where he was they can be too. This is the Easter gift to each and everyone who becomes his disciple.
The world will know his followers by their love and again these days are full of images of Christians showing compassion and care for their neighbours from worn torn Ukraine. It's consoling to know that we can still believe in goodness, in love and light and hope prevailing even in a world where it is so lacking at times. And so we say warmly, often and with conviction Happy Easter, He is Risen, Alleluia Alleluia.
Kilmacud Easter Garden.. come and have a look
Donations can be made at the Easter Garden for a local charity. Thank you