I saw four teenage girls in full school uniform on the street the other day, I checked my watch for the date, August 24th, where did the summer go! So, a week earlier than I'd planned, let's give a big shout out for all the school communities gathering in again for another year of hard work, great learning and fun filled days. Special welcome to any new teachers, new families and students starting in a new school.
Our Catholic schools have a special role to play within the wider faith community and we pray God's blessing on all who form, teach and share faith with our young people, thank you. It's hard to believe that it is Fr Tony's anniversary this weekend and I'm delighted to hand over to Patrick to share with us more about the school built in his memory in Haiti…………
---
Dear Parishioners,
I hope that you and those closest to you are safe and well. I write this as we are approaching Fr.Tony's third anniversary and I wanted to update you on the progression of Fr.Tony Junior High.
As you may have read on various news sites the security and safety situation in Haiti continues to be a very serious one. Since the assassination of President Moise in 2021 gangs have grown more powerful with a corresponding increase in violence and kidnappings. This of course only exacerbates the already extremely difficult conditions in what is one of the poorest countries in the world. I read an article recently that said inflation had reached 29% with prices of basic goods such as rice more than quadrupling. In a country where the majority of people working earn less than $2 a day, this just isn't sustainable. When you see the people of Haiti protesting for example against the prime minister, it is not that they are a lawless people, nor should it be seen as a desperate measure, but a measure of their desperation.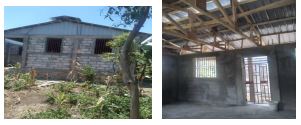 However, I wanted to update you on the progress of Fr.Tony Junior High. The 8th grade classroom is being built currently and as you can see from the pictures great progress is being made. The 9th
grade classroom and the final classroom of Fr.Tony Junior High will be constructed in July 2023. It is no exaggeration to say that Fr.Tony Junior High would not exist without the support of Mount Merrion and Kilmacud parishes and many children in the local Fon Ibo community would not have continued their education as a result. Your continued support, kindness and generosity means the world to all of us in Solèy Haiti but please be assured it is changing the world of the children attending Fr.Tony Junior High. I have no doubt Tony continues to look down on both parishes with pure pride.
Thank you.
Patrick O'Neill
Chairperson
Solèy Haiti