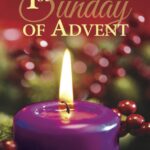 Patrick Kavanagh's poem Advent speaks to and from the religious culture of his own time, an era when penance was practiced and heartfelt hope in the power of Bethlehem offered redemption. The Advent darkened room he recalls was a place of dry black bread and sugarless tea. After the wonder of waiting, struggling in the depth of mystery, he finally recognises 'Christ comes with a January flower'. In light of this birth, the effects of Christmas will be felt 'wherever life pours ordinary plenty'. My goodness, but our culture has changed in the 90 years or so since those words were penned! Thank goodness the dry bread and sugarless tea are gone, but maybe there is still a place for some abstinence in our sugar-saturated lives.
Both then and now, the darkness of the season steals our light away, and cold wintery days cause us to shiver and search out comfort and shelter. The choice to 'give something up' has moved to the other side of Christmas, around the time the Wise Men come, many enter into a dry January, a New year's diet and month of recovery. I won't say that misses the point, but it does deny Advent an essential part of its spiritual energy, fasting.
Christians by their very nature are called to be counter-cultural. To embrace the Lord is to seek out the poor, the lonely, the hungry and the homeless. Advent appeals, charity cards, carol singers, purple vestments, a pre-Christmas confession and yes, even a little bit of fasting can all help to prepare the space in our hearts for a rebirth of the essential relationship of faith, a connection to Christ. Hopefully, the chink isn't too wide to let the wonder in.