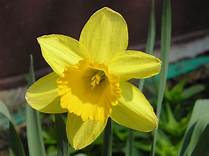 We had a few sunny days this week which I'm sure everyone enjoyed. One parishioner mentioned that she had gone to a Garden Centre to buy some bedding plants and found the car park so packed that she couldn't find a space. Obviously, many people are thinking about the potential in their gardens, patio's, planters and hanging baskets and anticipating having a beautiful garden to enjoy all through the summer. I love that response to the sunshine, the desire to do something practical, invest a bit of time and energy right now and then have the promise of seeing
all those trays of six baby plants flourishing.
In a way, this also relates to the Easter Season, the 50 days from the resurrection of Jesus until the celebration of Pentecost and the coming of the Holy Spirit. The daily and Sunday readings are drawn from the New Testament accounts of how the 12 apostles, along with the wider circle of disciples, grew our faith community into a living church for the whole world to enjoy. If they hadn't acted when they did the message of hope brought into the world
by our Lord wouldn't have survived.
So, my question is what can each of us do in this Easter Season to help faith flourish in our lives. We are naturally drawn to the Lenten observances and whether giving up a bad habit or taking on a positive practice we can mostly answer the question 'what are you doing for Lent?' But when it comes to the complimentary question 'what are you doing to grow in faith in this season?' we are less certain of a response. So, can we encourage each other by talking about Easter, reflecting on how healthy and productive our faith is and explore ways of bringing vibrant new life into this faith community? The newly planted bedding plants need sunshine, watering and food to thrive, if they are neglected there won't be much to enjoy. So too with faith, we need prayer, the community, books to read, courses to attend, hymns to sing and a positive outlook.
If there is anything the parish council can do to resource, explore or provide please share your thoughts.