When:
March 2, 2017 – April 11, 2017
all-day
Europe/Dublin Timezone
2017-03-02T00:00:00+00:00
2017-04-12T00:00:00+01:00
Contact:
Mount Merrion Parish Office
Tel: (01) 2881271
Unfolding Mystery is a series of talks by eminent speakers and opportunities for prayer and reflection. We invite you to come along to any talk or event which appeals to you. Everyone is welcome!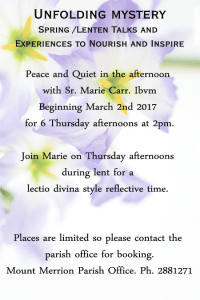 Peace & Quiet in the Afternoon 
Marie Carr IBVM
Marie has many years of experience working as a spiritual director and prayer guide. She has a very gentle and understanding presence and a great gift for facilitating people wherever they are on their prayer journey.
Thursday afternoons from 2nd March to 6th April, 2pm – 3pm
Parish Office, Mount Merrion

"Spring Talks and Reflections to Inspire our Journey"
Tuesday Evening Talks 7.30pm – 8.45pm  – Mount Merrion Community Centre
Wednesday Morning Musings 10.45am (after 10am mass) in the Parish Office, Mount Merrion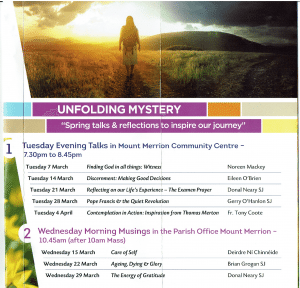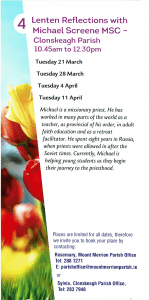 Lenten Reflections with Michael Screene MSC
Tuesday mornings  10.45am  – 12.30pm, Clonskeagh Parish
Michael is a missionary priest. He has worked in many parts of the world as a teacher, as provincial of his order, in adult faith education and as a retreat facilitator. He spent 8 years in Russia, when priests were allowed in after the Soviet times. Currently, Michael is helping young students as they begin their journey to the priesthood.
To book your place, contact
Sylvia, Clonskeagh Parish Office  Tel:283 7948  or
Rosemary, Mount Merrion Parish Office  Tel:288 1271 parishoffice@mountmerrionparish.ie